Funke Akindele advises against living a fake life
Nollywood actress, Funke Akindele-Bello took to her Instagram page to advice against living a fake life.
According to the owner of Scene One studios, achievement can be admired but one shouldn't envy or try to copy others.
She wrote,
Stay in your lane. Keep up with your hustle!! Yes, you can admire their achievement but don't envy! Wait for your time Don't try so hard to be like them cause we all have different destinies. Also, don't forget that most people na to show off they make them hay. So be you and don't copy copy!!!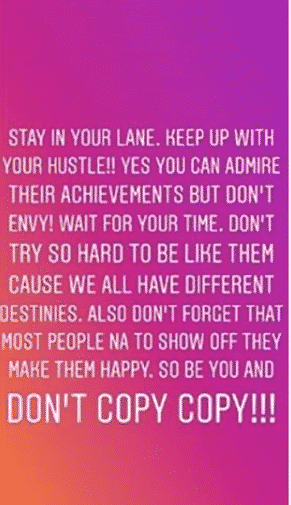 Recently, Ghanaian actress, Gladys Norvo aka Nadgla stated that living a fake life is part of what comes with working in the show business industry.
According to Gladys, one should never expect someone who works in the show business industry to act like a pastor or a corporate executive.
"Being a showbiz person is not like being a pastor or a corporate executive where people expect only good from you. Show business is an open space full of competition where everybody is doing something to get attention and get talked about.
"If people want to flaunt what they don't have in real life, it is the show part of show business which their followers are obviously interested in and that is allowed in this industry.
(Visited 2 times, 1 visits today)